The Top 8 Duties Caregivers Should Know
According to the Population Reference Bureau, 55 percent of U.S. women aged 85 or older lived alone in 2018. Overall, the number of Americans who are older than 65 is expected to increase to 95 million people by 2060, with more and more seniors choosing to age in their own homes. Needless to say, the demand for caregivers is only going to grow as the baby boom generation continues to live longer and live on their own terms.
Caregiving encompasses a wide spectrum in many ways. More or less, people of all adult ages can be caregivers as long as they're capable and have some compassion. In many cases, adult children or relatives become the primary caregivers for their aging parents or family members.
Likewise, the duties of caregivers vary greatly depending on their loved one's health condition and needs. Someone experiencing dementia requires a different level of care than someone living with a physical disability, and so on.
Working as a caregiver is both a challenging and rewarding role. With caregiving, it's fulfilling to feel needed and trusted by your loved one, but it can feel like a lot of pressure as well. If your elderly parent or family member is depending on you for their care and wellbeing, you need to be prepared psychologically and physically for the responsibilities involved.
What are those duties you can expect to carry out? While each person's care plan is different, below are the eight common responsibilities caregivers should know inside and out.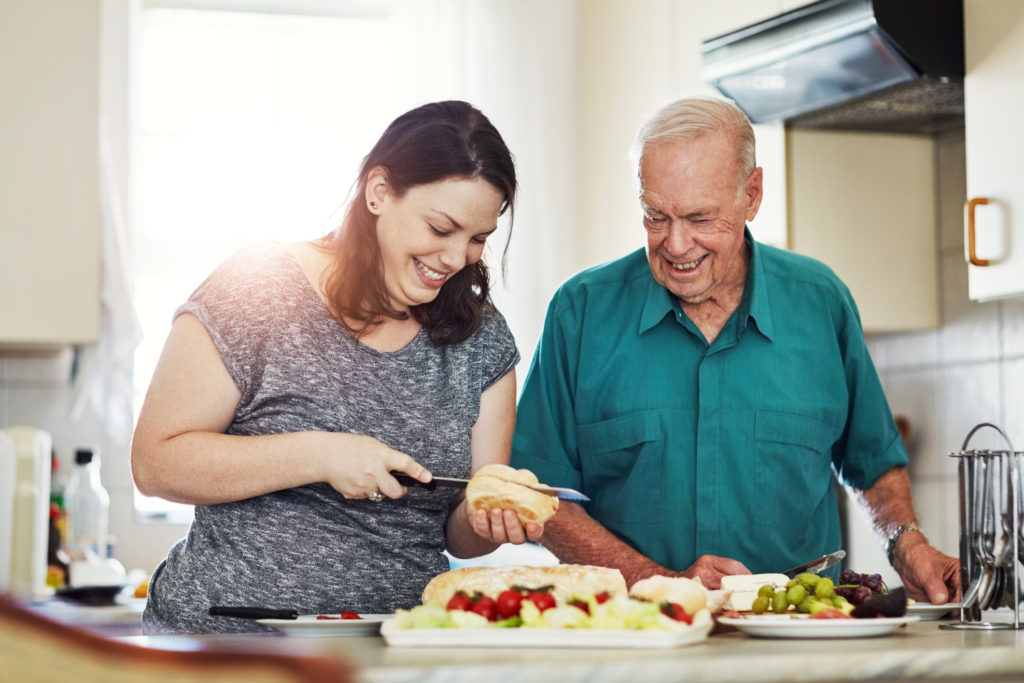 1. Basic Needs & Personal Care
One of the biggest tasks that caregivers need to handle is helping their loved ones complete basic needs and continue personal care. These are also known as activities of daily living, which are activities needed for your loved one to live comfortably day in and day out. Think: toileting and bathing, maintaining their personal hygiene, dressing assistance, and even laundry. Some of these tasks are intimate and private- from helping someone use the bathroom to cleaning up after them when they're sick. When these duties arise, it's essential to have some empathy and to respect their dignity as much as possible without passing any judgement. As our Vice President Ian Cooper says, "Never lose sight of the fact that people invite us into their home. We have a duty to provide the best care and make their lives better." Learn more about what personal care services entail.
2. Housekeeping & Management
Caregivers can expect to do the dishes, change light bulbs, vacuum the carpet, and carry out any other home maintenance duties to keep their loved one's living space clean. Typically elderly people don't have the ability to organize and spruce up the place like you can. Why does this matter? Keeping their home tidy plays a critical role in their mental and physical wellness. Especially if your loved one spends most of their time at home, it's fundamental that their living environment is free from germs, dust, and allergens so they don't get sick. The longer you wait to clean your loved one's home, the poorer the air quality becomes inside their living space, which can trigger a host of health complications. Decluttering and cleaning is also good for your loved one's mental health. According to the ADAA, having a clean and orderly home is tied to reduced anxiety, depression, and stress. Other studies have also supported the idea that having a clean space reduces depression and mental fatigue.
3. General Healthcare Needs & Health Monitoring
You don't need to have a medical license to be a caregiver, but you do need to ensure your loved one stays on top of their healthcare. You may need to help with a number of tasks: picking up their prescriptions, reminding them to take their medications, taking their blood sugar, and so on. Does your loved one have fibromyalgia? Maybe you'll need to massage their muscles to help relieve pain and soreness. Or maybe they're recovering from surgery and need to complete physical therapy exercises at home. You'll need to hold them accountable to practicing their exercises and keep an eye on them as well. Caregivers can expect to help their loved ones with a multitude of tasks associated with non-medical healthcare.
4. Mobility
As we age, our motor abilities become more and more limited. Our loved ones may need help moving in and out of their wheelchair, moving with their walker, or getting in and out of the car or shower. It's the caregiver's responsibility to make sure their loved one can move safely and without causing any injury or pain. Just because older people may not be as mobile as they once were, doesn't mean they don't want to move around or travel. You want to make sure their needs are being met if they show any desire to change positions, go outside, or move as they wish. Additionally, recognize any fall hazards in their home. You may need to assist your loved one in getting up and down the stairs or helping them avoid tripping over things like rugs or cords.
5. Food Preparation
Prepping meals and planning our diet becomes more and more of a chore as we age. Not only is cooking and meal prep physically difficult, but elderly people also have stricter nutritional needs they must follow. People tend to eat less as they grow older and thus their calorie intake is lower – this means that their diet must remain as nutritious as possible. Caregivers can expect to help prep those meals and hold their loved ones accountable to eating frequently and eating well. In addition, caregivers should make sure their loved one's diet is aligned properly with their medications or ailments. For example, if your loved one has celiac disease and is diabetic, you'll need to make sure the food they eat is gluten-free and diabetic-friendly.
6. Transportation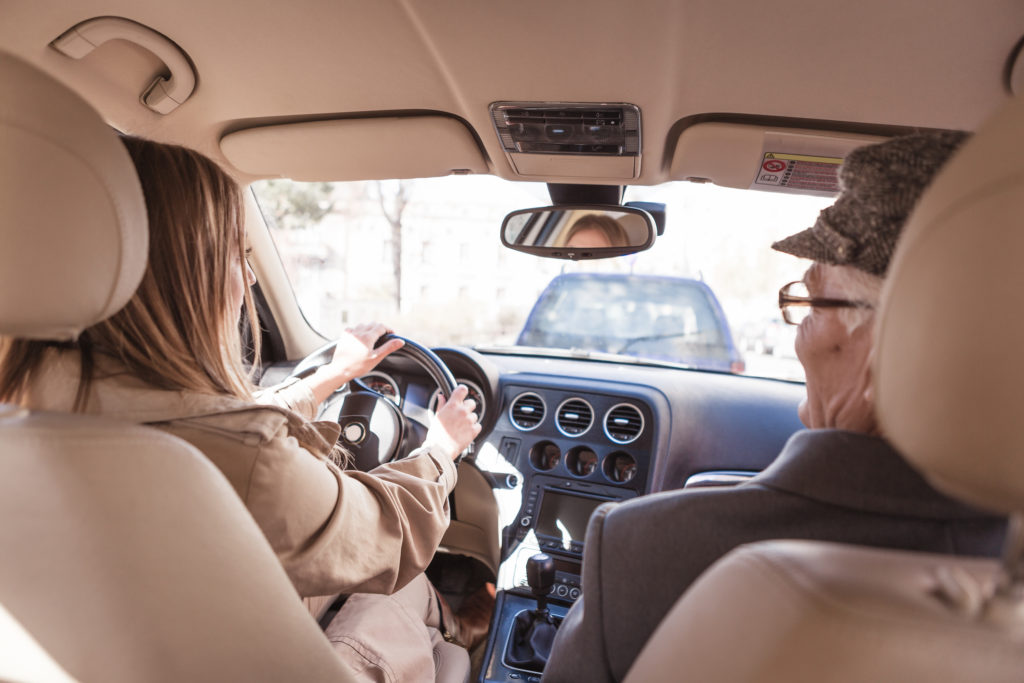 A common need among older individuals is for transportation. Especially if the person is unable to drive, they'll rely on their caregiver to get them from Point A to Point B, whether that's driving or helping them take public transportation. Caregivers should readily be willing to take their loved one wherever they want and need to go – not just doctor's appointments or running errands, but also to social events and visiting their family and friends. Getting your loved one out of the house and around the community may not seem like a big deal, but it makes a difference for your loved one in regards to their social life and interpersonal relationships. A change of scenery and trying new activities out of the house helps your loved one feel independent and active.
7. Emotional Needs & Companionship
In the whirlwind of care giving, it's vital to stay in tune with your loved one's emotional needs. Being a stable companion can be as simple as lending an ear when they need to vent their feelings or frustrations, or comforting them in times where life doesn't seem to go their way. Just because they're older, doesn't mean they're immune to loneliness, depression, or anxiety. More than anything, sometimes your loved one just needs a friend. Be that rock for them emotionally when it comes to their personal, mental, and health matters. Trust us – they'll be extremely thankful to have you around.
8. Financial Advocacy
While your loved one may have a Power of Attorney (POA) in place or other legal documents that authorize the handling of their finances, you can still help when it comes to everyday bills. Utilities, internet, car payments – caregivers can keep their clients and loved ones accountable to making payments on time and tracking their finances. There's also many scams and fraud tactics pulled on the elderly. Make sure your loved one doesn't fall victim to any shady emails or phone calls that cheat them out of their money.
Caregivers as the Ultimate Supporters
At the end of the day, the caregiver is the most familiar with their aging family member and as a result acts as the primary advocate for their health. Because caregivers are up close and personal with their loved ones, they are ultimately responsible for raising red flags whenever their loved one changes in mental state, physical health, or general behavior and mood. If you notice a substantial shift in your loved one, document the change you observed and alert the family, physician, or any other relevant points of contact. On top of recording such changes, your input as a caregiver is valued more than you think! Don't be afraid to make recommendations to the family when it comes to adapting to changes to their loved one's health.
While caregivers can expect to handle above duties, it's important to remain flexible as your loved one's needs change while they age. In the meantime, understanding these core responsibilities will help you be the best caregiver to your loved one and provide the quality care they deserve.
Interested in learning more about care giving opportunities with Open Systems Healthcare? Read more about our careers in care and apply today.