Home Care vs. Assisted Living: What's the Difference?
As our loved ones get older, decisions about helping them maintain their independence can be complex. Two readily available options for long-term care are home care and an assisted living facility. Choosing either option requires that you understand your loved one's needs and financial situation, the differences between assisted living vs. home care, and the two options' costs and other considerations.
What is Home Care?
Home care, or aging-in-place, lets seniors live in their homes and maintain their independence by providing regular in-home care and support services. A home care professional can regularly visit your family member to help them with a wide range of non-medical tasks such as grooming, bathing, dressing, medication reminders, meal preparation and light housekeeping. A home care professional can also help by running errands and shopping for your loved one, as well as providing companionship. Depending on the person's needs, home care can be adjusted over time to add more specialized care such as physical therapy or nursing care.
Advantages of Home Care
Home care offers several advantages, chief of which is allowing your loved one to independently age in place. Additional benefits include:
COVID Safety: During the COVID-19 pandemic, assisted living and nursing care centers were especially hard-hit. This was due to the large number of individuals with weakened immune systems living near each other and being cared for by a larger number of staff members. With home care, your senior has minimized contact with others. If they need to quarantine for any reason, being at home can offer an additional level of comfort and safety.
Connection with Care Professionals: With home care, seniors usually see a limited number of care professionals regularly. This provides the person with the benefit of companionship. Home care professionals and family members can also set up direct lines of communication if there are any concerns about their loved one's needs.
Connection to Family and Community: For many seniors, staying in their home provides a link to the community and family that is central to their sense of self. Being able to participate in favorite activities, see familiar friends, and spend time with grandchildren can put a spring in their step, keep boredom at bay, and help them stay sharp mentally. Plus, by being at home, receiving visitors and guests is never a problem.
Flexibility: Home care can also provide a degree of flexibility. Seniors may only need occasional care to start, but if their condition changes, it's always possible to upgrade their level of care. Or, if necessary, they can step up to an assisted living, nursing care or memory care facility if they can no longer maintain their independence.
What is an Assisted Living Facility?
Assisted living is community-based living for seniors who need help with daily care but don't need the full range of services provided by a nursing home or skilled nursing facility. Assisted living residents usually have their own apartment or room and share common areas. Unlike home care, an assisted living facility has staff on-site at all times.
Advantages of Assisted Living
All-Inclusive Lifestyle: Assisted living communities are usually all-inclusive, providing services like meals, personal care, help with medications, housekeeping, laundry, and social and recreational activities.
Designed for Seniors: Assisted living facilities are built and designed with the needs of seniors in mind. This may include stair-free floor plans, accessible bathrooms, and the ability to contact help 24/7.
Built-in Community: Living in a communal setting isn't always right for everyone. On the other hand, if you're concerned that your senior may be isolated at home, assisted living can provide a built-in community, a regular schedule of activities, and other opportunities to socialize.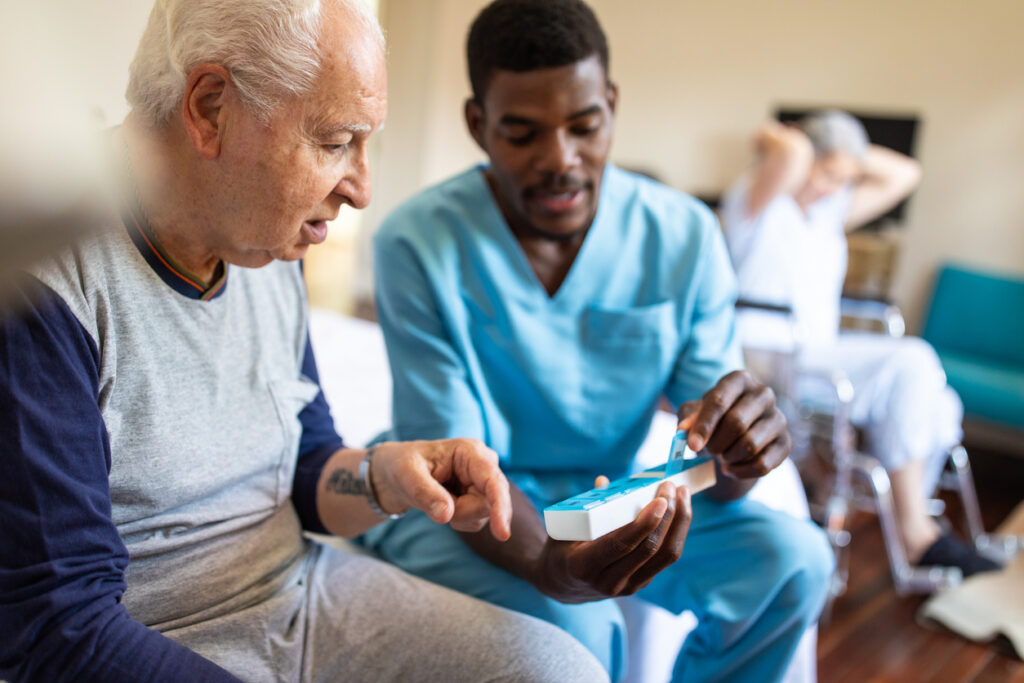 Home Care or Assisted Living? Which Care Option is Best for You
Deciding on care for your loved one can be a complex process. Home care can be a good option for a senior who has family living with them or nearby and who needs some general assistance every day. On the other hand, for a senior who has multiple chronic medical conditions, has dementia, or is frail and at risk for falls, assisted living may be a better choice.
Here are the differences between the two options:
Cost: Costs for both home care and assisted living can vary depending upon the type and frequency of services provided and the area of the country. Home care can be a more affordable choice because you pay for specific services provided by the care professional instead of the housing and other services offered by assisted living. This allows seniors to hold onto assets like their home or retirement accounts for a longer period of time. It also allows seniors to scale their home care expenses based on their needs and budgets. Medicare and Medicaid do pay for some home care but do not pay for living in an assisted living community.
Environment: The living environment is an important factor in determining well-being. While staying at home may be right for some, joining an assisted living community may be the best option for those who crave companionship. Similarly, as people age, environmental needs can change. While wheelchair ramps, bathroom grab bars and safety features to prevent falls are commonplace in assisted living facilities, they are not so common in homes and may need to be added.
Flexibility: Home care and short-term assisted living stays offer the flexibility of stepping up or down to meet care needs. If you're planning your senior's move to assisted living as a permanent change, be aware that facilities do have the right to involuntarily discharge seniors for various reasons, sometimes with no more than 30 days' notice. If your senior no longer has their own home, you may need to make other arrangements quickly.
Before you make any decisions, take the time to determine the needs of your senior loved one. Asking these questions can help:
What kind of help do they need?
How much help do they need on a daily, weekly, and monthly basis?
Are they able to stay active and engaged, or do they need extra encouragement to exercise and socialize?
If home care meets their needs at present, at what point will they need assisted living or other types of care?
Can their home be upgraded to make it more accessible?
What kind of budget is available now and in the future?
How much of their care costs will they be responsible for, and how much will you need to cover?
Understanding the differences between assisted living vs. home care is integral to making the best decision for your loved one. Take the time to consider both your needs and your senior's needs. If you have questions, our team at Open Systems Healthcare can help you decide if home care services are the right choice. Give us a call today at 1-855-616-2662 or find an OSH location near you.